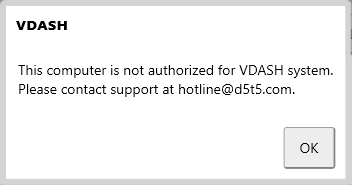 If you have encountered the following message in the VDASH system, there is probably a hardware change in your PC, or it is a new PC and you have already no free VDASH registration in the system.
You can authorize a new PC via your VDASH web account:
Open https://d5t5.com in your web browser.
Click on "LOGIN" at the top of the website.
Use the same login as in the VDASH system.
On the "My VDASH" tab, remove the old computer to create free registration for the new one.