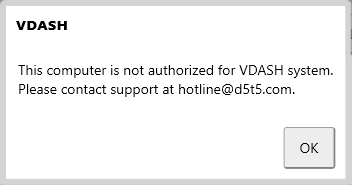 If you've come across this notification in the VDASH system then most likely there has been a hardware change in your computer, or you have gotten a new computer and all spots for VDASH hardware are full.
You can authorize your new computer via your web browser.
Open the

https://d5t5.com site using your web browser.

Click the "Log in" button in the upper half of the website,

Use the same log in as you do in the VDASH system.

In the "My VDASH" file delete the old computer by which you will have made space for the new one.