VDD - VDASH DONGLE – remote diagnostics, function extender, etc...
UPDATE: VDD officialy available NOW in our e-shop! VDD - Volvo function extender
To find out what is supported in your car, enter the VIN and press Enter: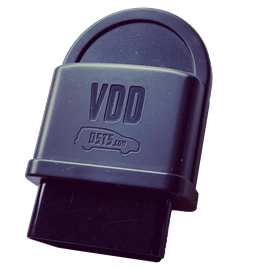 VDASH Dongle (VDD) is device which is plugged in OBD II socket in your car and provides online monitoring, control and diagnostic of your car.
VDD is OBD device equipped with 2G GSM module and M2M SIM-card, special CAN transciever for deeper CAN BUS diagnostics, accelerometer. VDD size is approx 5-cm x 4,5-cm x 2,5-cm.
There are different versions of VDD hardware. Check differences here.
VDASH Dongle (VDD) is developed by (D5T5 s.r.o. / VolvoCesky.cz) since 2015 and is is fully compatible with all Volvo cars made between 1999 - now (P1, P2, P3, SPA, CMA, P80).
Newly it is possible to decode CEM PIN code for P2 MY2005-2012 (excluding V8 and 3,2) and P1 2004-2011 (excluding Euro5 engines).
Together with Dongle hardware there are iOs and Android applicetion to be installed to your cell phone where you can monitor and control these finctions.
---
There are many statuses and control functions available for all cars now (however may differ depending on car configuration and developement stage)
Car status running / idle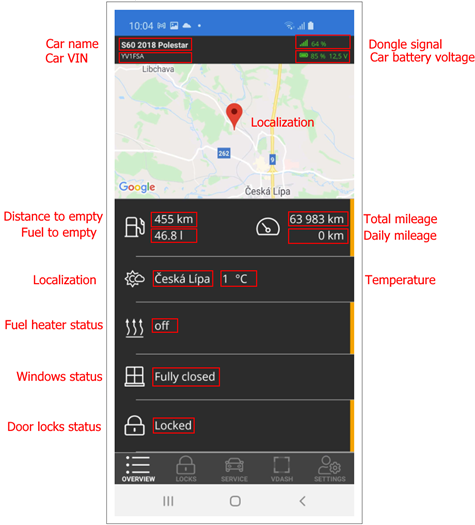 Car battery state monitoring, Dongle signal level
Fuel level, daily and total mileage
Log book
Basic localization service
Fuel heater status and activation
Windows status and control
Door locks status and control
---
Commands are hidden under status buttons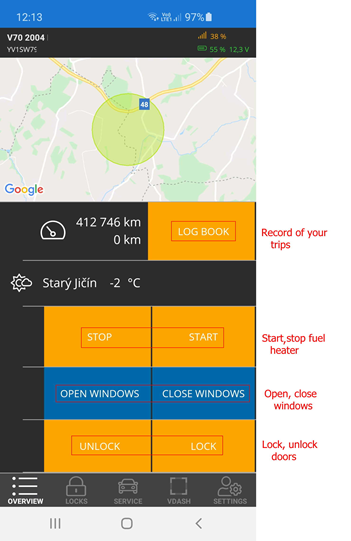 If the buttons take a slide, log book and cotrol functions appear.
Log Book shows your trips
If your car is equipped with fuel heater, heater may be started or stopped
Windows may be opened or closed
Door locks may be unlocked or locked
---
Detailed door or windows state is showed on the Lock page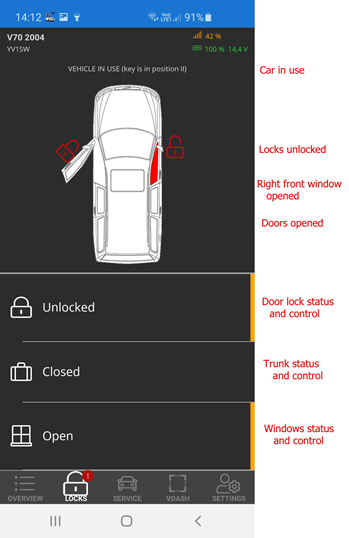 On the Lock page there are detailed information about:
- staus of doors
- locks and
- windows
Check here what commands are available for your car.
---
On the service page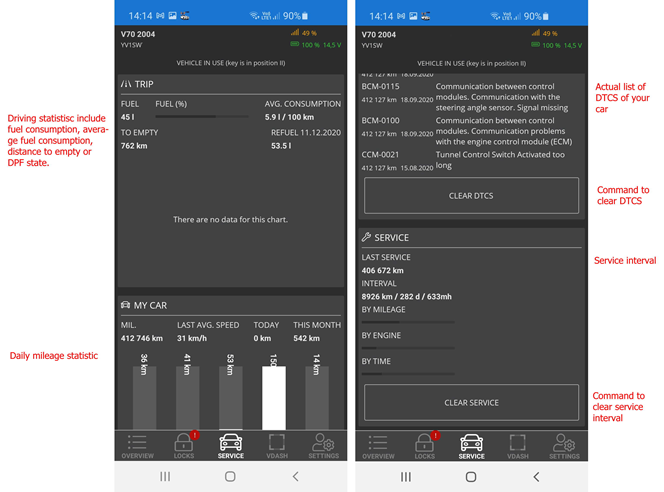 ---
VDD development roadmap is here: https://d5t5.com/wiki/wiki/article-vdd-development-roadmap
Every VDD has 2-months free subscription included, but for fully working VDD you need to purchase subscription:
12-months VDD BASIC subscription
Mobile app is fully in english language
Android App download: https://play.google.com/store/apps/details?id=com.volvocesky.dongle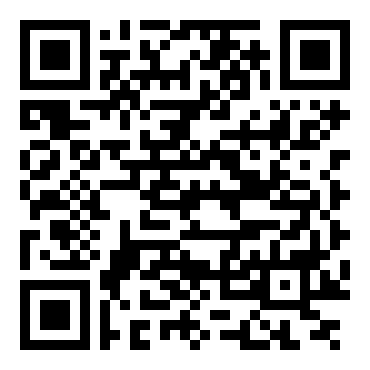 iOS App download: https://apps.apple.com/us/app/vdd-by-d5t5-com/id1427315838